You know when your train is f*cked – this is the show that tells you WHY.
This month's show: Hot Train Summer! On our August edition of Why Your Train is F*cked: Hot Train Summer, we're diving deep into all things summer that make your subway trips miserable. We'll tell you all about how trains stayed cooled before A/C (hint: they really didn't!), what's up with construction in the subway during 100° weather, and how New Yorkers have been using the trains to get out of the city for ages. Do we really need to suffer Albuquerque-level heat just to wait for an F train? And does the MTA even really care about our suffering? Join us for this sweaty edition of Why Your Train is F*cked, and be thankful that our show is in an air conditioned basement.
Doors 6:30pm / Show 7:00pm
Tickets $15 adv / $20 door
21+
This event is mixed seated and standing room. Seats are first-come, first-served.
THIS MONTH'S SPECIAL GUESTS: Maria Katsigeorgis and John Adragna are PhD students at NYU Langone Health, Department of Environmental Medicine. They are using *very fancy equipment* to gather subway pollution measurements for an upcoming publication. If you're lucky, they may tell us which area is the new spot for the worst urban pollution locale... and if you're luckier, you won't live anywhere near it.
---
THIS MONTH'S BUSKER: Mallory Kinney is an actor/improvisor/musician/director/producer and full-time goblin. With a long history of performing, creating, and teaching, Mallory currently produces and performs in several improv/comedy shows, including the weekly "Smart and Lovely Show" in midtown Manhattan, is half of the Children's Entertainment/Learning duo 'CC and Mallory,' and enjoys making music and film projects with her best friends. ig: @iheartmallory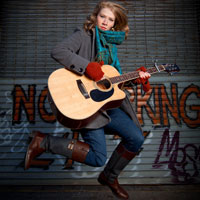 ABOUT THE SHOW:
Get on board for a deep dive into the history of the MTA. Whether you love it, hate it, or want to compose more informed rage-tweets about it during your next 20 minute delay – we've got you covered. Your hosts Meg Pierson (TEDx, Alchemy Comedy) and Justin Williams (City College, SirusXM), along with a mysterious anonymous ghostwriter, will conduct our show through the twists and turns of history; revealing unbelievable stories, subway life-hacks, and truly upsetting details about our subway system.
YOUR HOSTS:
Meg Pierson: A Brooklyn resident, Meg co-founded Alchemy Comedy Theater in South Carolina. In addition to helping to write and produce the pet health video series Cone of Shame, Meg travels internationally teaching improv workshops at veterinary conferences – she isn't a vet but if your cat's peeing outside of the litterbox it's probably a UTI. She's a two-time emcee of TEDx Greenville and currently hosts Versus at Caveat every second Saturday. In her free time, she offers people jobs at Axiom Law.
Justin Williams is an Assistant Professor of History at the City College of New York. Justin is also a comedian that has been featured on Comedy Central's Jokes.com, Mashable, SiriusXM Radio, The Elite Daily, Men's Health Magazine, The Kansas City Star, 'Morning Buzz Live' on VH1, 'Trial by Laughter' on Comcast, 'Laughs' on Fox and 'The Comedy Show Show' on Seeso.
*RECORDING* This show will be recorded for publication as a podcast.
REFUND POLICY: Tickets maybe be refunded up to 24 hours before the event. Within 24 hours we may take exchanges for other events at our discretion. No refunds after the event.