You know when your train is f*cked – this is the show that tells you WHY.
This month's show: Nickels, Tokens, Swipes and Taps! We have gone through so many payment systems on the MTA since its inception. And did you know the first fare increase was finally increased in 1948 from 5¢ to 10¢ – over 40 years after the subway first opened in 1904!! DANG Y'ALL! Your friendly neighborhood transit authorities Meg and Justin are here to tell you the nutso tale of the subway fares, and what the future holds for our wallets – and our privacy.
Doors 6:30pm / Show 7:00pm
Tickets $15 adv / $20 door
21+
This event is mixed seated and standing room. Seats are first-come, first-served.
THIS MONTH'S SPECIAL GUEST: Rebecca Bailin is the Political Director of the Riders Alliance. At the Riders Alliance she has managed the grassroots organizing, coalition, political and press strategy on many successful campaigns. Most recently, she helped win congestion pricing from Albany that will bring billions of dollars into our broken subway system as well as New York City's first program providing discount MetroCards for low-income New Yorkers (Fair Fares). She holds an M.A. in Sociology from the New School for Social Research and a B.A. from the University of British Columbia.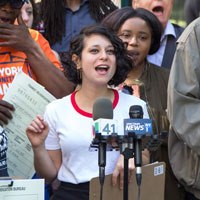 THIS MONTH'S GUEST ARTIST: The PUN-ch Up Team! Join five of New York City's most decorated wordsmiths and friends for a night of vocabaret exploring the past, present and future of language. We'll punch up your evening with word games, anagrams, etymological deep-dives and more. Hosted by your friends wit benefits: Sam Corbin, Tim Donnelly, Jerzy Gwiazdowski, Ally Spier and Nikolai Vanyo, five of New York City's best competitive punners.
The PUN-ch Up is hosting a show at Caveat on August 9th!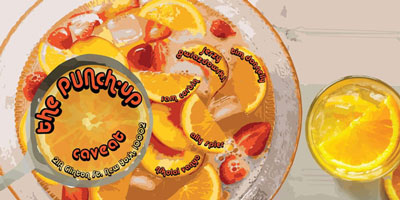 ABOUT THE SHOW:
Get on board for a deep dive into the history of the MTA. Whether you love it, hate it, or want to compose more informed rage-tweets about it during your next 20 minute delay – we've got you covered. Your hosts Meg Pierson (TEDx, Alchemy Comedy) and Justin Williams (City College, SirusXM), along with a mysterious anonymous ghostwriter, will conduct our show through the twists and turns of history; revealing unbelievable stories, subway life-hacks, and truly upsetting details about our subway system.
YOUR HOSTS:
Meg Pierson: A Brooklyn resident, Meg co-founded Alchemy Comedy Theater in South Carolina. In addition to helping to write and produce the pet health video series Cone of Shame, Meg travels internationally teaching improv workshops at veterinary conferences – she isn't a vet but if your cat's peeing outside of the litterbox it's probably a UTI. She's a two-time emcee of TEDx Greenville and currently hosts Versus at Caveat every second Saturday. In her free time, she offers people jobs at Axiom Law.
Justin Williams is an Assistant Professor of History at the City College of New York. Justin is also a comedian that has been featured on Comedy Central's Jokes.com, Mashable, SiriusXM Radio, The Elite Daily, Men's Health Magazine, The Kansas City Star, 'Morning Buzz Live' on VH1, 'Trial by Laughter' on Comcast, 'Laughs' on Fox and 'The Comedy Show Show' on Seeso.
*RECORDING* This show will be recorded for publication as a podcast.
REFUND POLICY: Tickets maybe be refunded up to 24 hours before the event. Within 24 hours we may take exchanges for other events at our discretion. No refunds after the event.