You know when your train is f*cked – this is the show that tells you WHY.
This month's show: NJTransit and the PATH! – We're doing another crossover episode, baby! The MTA, NJTranist and the PATH are woefully intertwined, and each weekday, the three operations serve over 6 million people every day. So when you pit one against the other, which one comes out on top?? Only those at our shows will know.
Doors 6:30pm / Show 7:00pm
Tickets $15 adv / $20 door
21+
This event is mixed seated and standing room. Seats are first-come, first-served.
THIS MONTH'S SPECIAL GUEST: Nick Sifuentes is the Executive Director of Tri-State Transportation Campaign, where he has led winning campaigns for New Jersey Transit board reform, increased funding for NJ Transit and the MTA, and comprehensive bus reform and congestion pricing in New York City. Nick comes to TSTC from the Riders Alliance, where he served as Deputy Director. There, he led campaigns to call on the State Legislature to fix and fund New York City's public transit, create a half-priced MetroCard program for low-income residents known as Fair Fares, and revamp ailing bus service in New York City.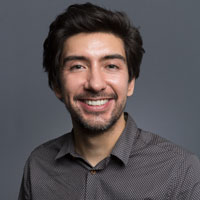 THIS MONTH'S BUSKER: Melissa Elledge is an accordionist based in New York City. Along with performing in major venues across the country, she has been charming subway straphangers with her eclectic arrangements of popular tunes for more than a decade. No, she can't tell you when the next train is coming.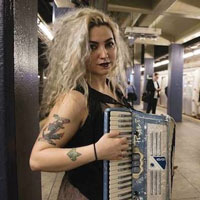 ABOUT THE SHOW:
Get on board for a deep dive into the history of the MTA. Whether you love it, hate it, or want to compose more informed rage-tweets about it during your next 20 minute delay – we've got you covered. Your hosts Meg Pierson (TEDx, Alchemy Comedy) and Justin Williams (City College, SirusXM), along with a mysterious anonymous ghostwriter, will conduct our show through the twists and turns of history; revealing unbelievable stories, subway life-hacks, and truly upsetting details about our subway system.
YOUR HOSTS:
Meg Pierson: A Brooklyn resident, Meg co-founded Alchemy Comedy Theater in South Carolina. In addition to helping to write and produce the pet health video series Cone of Shame, Meg travels internationally teaching improv workshops at veterinary conferences – she isn't a vet but if your cat's peeing outside of the litterbox it's probably a UTI. She's a two-time emcee of TEDx Greenville and currently hosts Versus at Caveat every second Saturday. In her free time, she offers people jobs at Axiom Law.
Justin Williams is an Assistant Professor of History at the City College of New York. Justin is also a comedian that has been featured on Comedy Central's Jokes.com, Mashable, SiriusXM Radio, The Elite Daily, Men's Health Magazine, The Kansas City Star, 'Morning Buzz Live' on VH1, 'Trial by Laughter' on Comcast, 'Laughs' on Fox and 'The Comedy Show Show' on Seeso.
*RECORDING* This show will be recorded for publication as a podcast.
REFUND POLICY: Tickets maybe be refunded up to 24 hours before the event. Within 24 hours we may take exchanges for other events at our discretion. No refunds after the event.