You know when your train is f*cked – this is the show that tells you WHY.
This month's show: The 4/5/6! Whether you know it as the 4/5/6, the IRT Lexington Avenue Line, or the Scarily Overpacked Line Every Single Time You Step Onto The Train, we're taking this train all the way from the Bronx to Brooklyn.
Doors 6:30pm / Show 7:00pm
Tickets $15 adv / $20 door
21+
This event is mixed seated and standing room. Seats are first-come, first-served.
THIS MONTH'S SPECIAL GUESTS: We The Commuters is WNYC/Gothamist's ongoing transit reporting that centers on the experiences of commuters. We're here to document the highs and lows, the horrors and the glory of commuting – and to connect the voices of everyday riders to the policy experts and elected officials who determine how the system runs.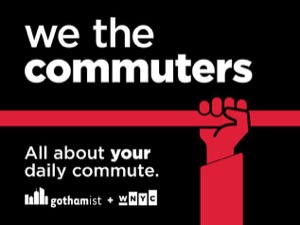 ABOUT THE SHOW:
Get on board for a deep dive into the history of the MTA. Whether you love it, hate it, or want to compose more informed rage-tweets about it during your next 20 minute delay – we've got you covered. Your hosts Meg Pierson (TEDx, Alchemy Comedy) and Justin Williams (City College, SirusXM), along with a mysterious anonymous ghostwriter, will conduct our show through the twists and turns of history; revealing unbelievable stories, subway life-hacks, and truly upsetting details about our subway system.
YOUR HOSTS:
Meg Pierson: A Brooklyn resident, Meg co-founded Alchemy Comedy Theater in South Carolina. In addition to helping to write and produce the pet health video series Cone of Shame, Meg travels internationally teaching improv workshops at veterinary conferences – she isn't a vet but if your cat's peeing outside of the litterbox it's probably a UTI. She's a two-time emcee of TEDx Greenville and currently hosts Versus at Caveat every second Saturday. In her free time, she offers people jobs at Axiom Law.
Justin Williams is an Assistant Professor of History at the City College of New York. Justin is also a comedian that has been featured on Comedy Central's Jokes.com, Mashable, SiriusXM Radio, The Elite Daily, Men's Health Magazine, The Kansas City Star, 'Morning Buzz Live' on VH1, 'Trial by Laughter' on Comcast, 'Laughs' on Fox and 'The Comedy Show Show' on Seeso.
*RECORDING* This show will be recorded for publication as a podcast.
REFUND POLICY: Tickets maybe be refunded up to 24 hours before the event. Within 24 hours we may take exchanges for other events at our discretion. No refunds after the event.