WrestleMania meets Debate Club
Your hosts Meg Pierson, Zak Martellucci, and Dustin Growick lead a rotating cast of special guest experts in a battle royale of serious—and not so serious—topics. Who will come out on top? Dinosaurs or mammals? Biology or physics? Space or oceans? Chock-full of trivia, games, and prizes, the show will conclude with the answer to an age-old question. The winner is up to you, as audience endorsements and YOUR vote will ultimately determine which team is crowned champion of VERSUS.
THIS MONTH: Sex vs. Pizza
Doors 9:00pm / Show 9:30pm
Tickets $15 adv / $20 door
21+
This event is mixed seated and standing room. Seats are first-come, first-served.


Repping Sex: Natalia Reagan is an anthropologist, primatologist, host, comedian, professor, producer, and writer. She most recently was a comedy writer and correspondent on Neil deGrasse Tyson's StarTalk, a regular host of the StarTalk All-Star podcast, and a science correspondent for Thrillist's Daily Hit. She co-hosted Spike TV's 10 Million Dollar Bigfoot Bounty and was also a writer and host for Discovery's DNews as well as an animal expert on Nat Geo Wild's Everything You Didn't Know about Animals. She received her MA in anthropology after studying the effects of deforestation on the Azuero spider monkey in rural Panama and while in grad school she began producing science comedy videos. She currently lives in Brooklyn and is a professor of anthropology at Lehman College and Eastern Kentucky University. Natalia has been shit on by more monkeys than she's willing to admit. You can follow her on the socials @natalia13reagan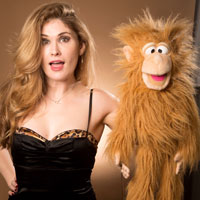 Repping Pizza: Scott Wiener is the founder of Scott's Pizza Tours, a NYC pizza tour company, and Slice Out Hunger, a hunger relief nonprofit. He judges pizza competitions, writes for a pizza trade magazine, consults for pizza ingredient companies, and holds the Guinness World Record for the largest collection of pizza boxes.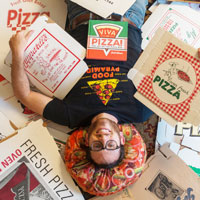 REFUND POLICY: Tickets maybe be refunded up to 24 hours before the event. Within 24 hours we may take exchanges for other events at our discretion. No refunds after the event.