Science fairs for adults – how Caveat does happy hour.
Pregame Your Brain: Badass Women of STEM – We may celebrate Women's HIstory Month in March, but we're declaring ALL OF 2019 to be THE YEAR OF WOMEN IN STEM, kicking off this January! Come meet some amazing organizations who support and celebrate women's achievements in STEM fields all day, every month and every dang year. *All nice humans welcome!*
6pm-8pm (drop in anytime!)
Tickets: FREE with advanced RSVP, or $5 at the door
21+

PRESENTING ORGANIZATIONS:
500 Women Scientists
Feminist Bird Club
Scientista
WISeR + Science Outreach at Rockefeller University
AWIS New York-based Women in Natural Sciences
Women in Science at Columbia University
Murdomo Institute
Colab Futures
STATIONS + PRESENTERS:
500 Women Scientists --500 Women Scientists is a grassroots organization powered by locally organized pods around the world. Our mission is to serve society by making science open, inclusive, and accessible. Learn more about our New York City pod at https://500wsnyc.org Stop by our station for hands-on science activities with brilliant women scientists!
--Shejla Pollozi is a PhD student in Chemistry at the Graduate Center and Lehman College of City University of New York (CUNY). Her research focuses on understanding the self-assembly of short aromatic peptides to design proton wires for fuel cells. She is the membership coordinator for the NYC 500 Women Scientists Pod and New York Science Communication.
--Radhika Desai is a PhD student and doctoral research fellow at Columbia University. Her work is primarily in the area motor control, and neuromechanics of neurodegenerative disease. She is a member of the 500-WS New York chapter, and of WISC (Women in science at Columbia).
--Kimberly Fung is a PhD candidate in Chemistry at the Graduate Center and Hunter College of the City University of New York. Her work focuses on the development of antibody-based radiopharmaceuticals for PET imaging and therapy. She is the co-coordinator for the NYC pod of 500 Women Scientists and a member of the New York chapter of the Association of Women in Science (AWIS).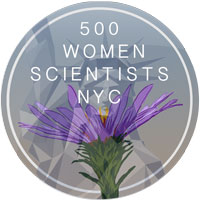 ===
Step Up Your Birding w/ Feminist Bird Club -- At the Feminist Bird Club station, you'll find some birdy trivia, field guides, info on how to sign up to be a member and more. 2019 patches and stickers will be for sale, so come ready to make a donation to a good cause!
--Molly Adams founded the Feminist Bird Club in 2016 and facilitates monthly bird walks in and around NYC. She is also the outreach coordinator at the Wildlife Conservation Society's New York Aquarium.
--Chelsea Lawrence is a professional software tester and lifelong nature lover from Virginia. Her favorite place to unwind and bird is Prospect Park.
--Jennifer Kepler is the Manager of Volunteers & Visitor Engagement at the Wildlife Conservation Society's New York Aquarium. She spends her spare time birding and is a committee chair for the Brooklyn Bird Club, organizing meetings and speakers.

===
Mysterious Maidens w/ Scientista -- Women have been making ground-breaking discoveries in STEM for centuries but most of them never received the same accolades as their male counterparts. Come play our matching game to see if you can match the mysterious figure with their impact on the world! You'll be surprised to find many of the technologies you take for granted were only made possible by women in STEM.
--Jackie Giovanniello is a PhD student in Neuroscience at Cold Spring Harbor Laboratory and Symposium Director for the Scientista Foundation. Her scientific work focuses on understanding how neural circuits are disrupted in autism spectrum disorders. As Scientista's Symposium Director, she oversees the planning and execution of the Foundation's annual conference for young women in STEM.

===
Who Invented That? WOMEN! w/ WISeR + Science Outreach at Rockefeller University -- Did you know that some of the most well known scientific discoveries and achievements were made by women? Test your knowledge about women scientists and prepare to be shock about how many things you use everyday or take for granted were actually contributed by amazing women that challenged all the prejudices and social barriers.
--Pilar Mendoza completed her PhD in Madrid, Spain, in the immunology field. She moved to New York two years ago and has since been focusing in new treatments for HIV and testing them in clinical trials at Rockefeller University.
--Lucia Morgado-Palacin is a researcher in the field of molecular oncology. She received her PhD at the CNIO in Madrid working on tumor suppressor mechanisms of cancer. After a short stay in Scotland, she moved to New York to study key drivers of leukemia growth and novel therapeutic strategies to target blood malignancies.

===
Untold Stories w/ AWIS New York-based Women in Natural Sciences -- Come explore untold stories! In the realms of conservation and natural history, countless members of underrepresented groups have acted and continue to serve as change agents, contributing to the fields through their work as scientists and in other roles. Yet their stories are largely unknown. At our station participants will have the opportunity to explore these untold stories through our website as well as an interactive card game.
--Melina Giakoumis is the Secretary of the Women in Natural Sciences group and a Ph.D. student in Biology at the City College of New York. Melina's research focuses on using genomics and ecological modeling to address questions about adaptation and selection, and applying this information to conservation. Melina is currently studying speciation, hybridization, and genomic adaptation in intertidal marine invertebrates in the Atlantic Ocean.
--Suzanne Macey, Ph.D. is the Vice President of the Women in Natural Sciences group and a Biodiversity Scientist at the Center for Biodiversity and Conservation at the American Museum of Natural History (AMNH). Suzanne's biological research currently includes studies focused on the behavioral ecology, health, and conservation genetics of endangered turtle species and the ecology of little blue penguins.

===
Wheel of Women in STEM w/ Women in Science at Columbia University -- Spin the Wheel and test your knowledge at our Women in STEM trivia. Earn points by falling on the different categories, from the early days of co-ed Ivy Leagues to NYC's young school girl's science education.
--Elena Carazo is a PhD candidate in the Biological Sciences department at Columbia University. She studies how antidepressants affect specific parts of the brain, and how these effects contribute to the beneficial effects of antidepressants. She is interested in science outreach and community organizing, as well as the advancement of girls in science.
--Alyssa Manz is a fifth-year PhD candidate in the Chemistry Department at Columbia University. She specifically is studying "glassy materials," which are compounds that have characteristics of both solids and of liquids. Despite being poorly understood, they are used quite frequently in our everyday lives. She is involved in science outreach to young girls, and organizes networking events for the community of women scientists at WISC.

===
Beyond Curie w/ Murdomo Institute -- Beyond Curie is a colorful, augmented reality-enabled portrait series of 42 badass ladies in STEM. From Maryam Mirzakhani to Maria Goeppert Mayer, come see these portraits come to life, learn about these incredible ladies and even take some of these cool portraits home!
--Amanda Phingbodhipakkiya is an award-winning multidisciplinary artist, two-time TED speaker and STEM advocate. She uses the power of design to create engaging and relatable STEM experiences for everyone.

===
Fallacy Bingo w/ Colab Futures -- Fallacies shut down arguments preemptively and distract from core issues. Consequently, they build division, and create fragmenting. The goal of Fallacy Bingo is to provide tools to get past the bullshit.
--Karen Ingram is a creative director who uses her skill set to promote scientific awareness. Karen co-authored Biobuilder: Synthetic Biology in the Lab (O'Reilly, 2015), a synthetic biology curriculum. Since 2012 she has co-organized Brooklyn-based science cabaret, the Empiricist League. Her newest projects focus on how to traverse boundaries in creative and STEM fields.